Big Data Research in India: A Scientometric Review
Keywords:
Big Data, Bibliometric, Scientometric, ScientoPy, Web of Science, Scopus
Abstract
Big Data paradigm has grown rapidly in recent years, resulting in significant research from a tremendous multitude of perspectives. A literature review is an important methodology for gathering information about the ongoing activity of science. There are several methods including bibliographic or scientometric studies in reviewing the research literature. This paper studied with a scientometric analysis of research work on the emerging field 'Big Data' in India using a Python software called 'ScientoPy'. A data set of 3080 papers on Big Data Research in India was collected which are indexed in two major scientific databases, i.e. Clarivate Web of Science and Scopus over a 10-year period (2012–2021). This aims to examine the main authors, country affiliation, most published authors, top research outputs, and emerging themes to provide insight into recent developments in the field.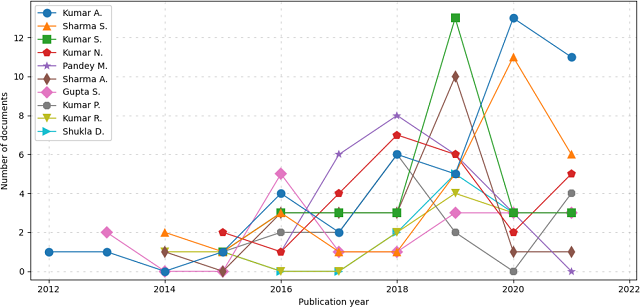 Downloads
How to Cite
Wodeyar, R., & Mulla, K. R. (2022). Big Data Research in India: A Scientometric Review. Journal of Data Science, Informetrics, and Citation Studies, 1(1), 35–40. https://doi.org/10.5530/jcitation.1.1.5
License
Copyright (c) 2022 The Author(s)
This work is licensed under a Creative Commons Attribution-NonCommercial-NoDerivatives 4.0 International License.